A Better Switchboard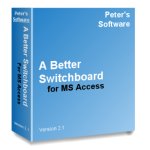 "A Better Switchboard" is a collection of next-generation Microsoft® Access® switchboard menus that you can use with your application. These switchboards feature enhanced functionality, rollover effects, and many different menu styles.
With "A Better Switchboard" you can:
Utilize web page-like switchboard menus with rollover effects
Turn your switchboard into an expanding list/treeview-type menu
Open your switchboard as a CommandBar menu
Open a hyperlink from a switchboard
Run a function with more than one parameter from a switchboard
Use your switchboard with ADP/ADE files
Continue to use the familiar Switchboard Manager and "Switchboard Items" table
See a screenshot.


Download
Download abs.zip - Version 2.1 trial version for Access 97, 2000, 2002/XP, and 2003 (2003kb)
Download abs_10.zip - Version 1.1 for Access 97, 2000, 2002/XP, and 2003 (203kb) - Free!



Instructions
Double-click on the downloaded zip file to open it, then double-click on the setup.exe file inside and follow the instructions on the screen to install this application on your computer.
Please see the included readme.txt file or help file for further instructions on application usage.



Technical Support
For A Better Switchboard technical support, please see the A Better Switchboard FAQ page, or send an e-mail message to: info@peterssoftware.com



Price
A Better Switchboard v2.1 Pricing
A Better Switchboard for Access 97, 2000, 2002/XP, and 2003

Click to Order

1-5 Licenses
6-20 Licenses
21-100 Licenses
Unlimited, Royalty-Free Distribution License w/Src
Upgrade from 1-5 Licenses to Unlimited, Royalty-Free Distribution License w/Src

Licensing Information

A license covers the use of A Better Switchboard on one computer within your company.

With the unlimited, royalty-free distribution license, you may incorporate the A Better Switchboard database objects and code into any number of applications that you develop for distribution inside or outside of your company.

Prices are subject to change without notice.

News
5/11/04 - Version 2.1 released. Includes expanding list/treeview-style menu, some bug fixes.
3/15/04 - Version 2.0 released. Includes ADP support, many example switchboards, ability to open switchboard as menu bar, and more.