Business and Corporate Office Suites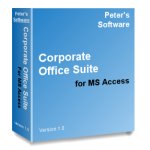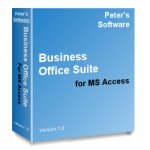 Our entire collection of Microsoft® Access® Tools for Developers from Peter's Software is available to you for one price. Impress your boss and/or your clients! With our suite of products, you'll see significant gains in productivity, and flexibility and you'll be creating overall better applications. The variations are the Business Office Suite (lowest tier license for each product except KeyedAccess), or our Corporate Office Suite (unlimited, royalty-free distribution license with source code for each product). You get:
A Better Switchboard - Add enhanced switchboard menus to your application.
Button Painter - Add attractive colors, and other effects to your Access command buttons.
CenterIt - Center controls on Access maximized forms.
Cub Editor - Create and modify attractive Access reports quickly and easily.
Cub Reporter - Add dynamic, reusable criteria, and sorting parameters to your Access reports.
Drag-N-Dropper - Enhance your Access application with drag and drop functionality.
Halp - Integrated help authoring and display tool for Access applications.
KeyedAccess (Corporate Office Suite only) - Lock your Access app and require users to enter a 16 char Reg ID/Product Key or Unlock Code based on Installation Serial Number.
LASsie - A library you can reference to implement form and report level security.
LetterMerger - Merge Access data and letter templates without using an external word processor.
Moe (Mouse Over Effects) - Enhance your Access forms with intuitive rollover effects.
Navigation Pane Relief - A colorful alternative to the Navigation Pane (and Database Window).
Selector - Multi-purpose, configurable, utility record selection form.
ShrinkerStretcher - Dynamically rescales Access forms, fonts and controls to fit the user's screen resolution.
VelociForm - Instantly display an add/change/delete/search form based on table or query definition, or SQL statement.
Price
Business and Corporate Office Suite Pricing
Business Office Suite

Click to Order

Lowest tier license for each product
Lowest tier license for each product, excluding ShrinkerStretcher
Corporate Office Suite
Unlimited, Royalty-Free Distribution License w/Src for each product

Prices are subject to change without notice.

Business and Corporate Office Suites FAQ