Button Painter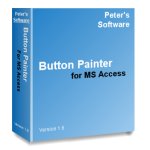 Button Painter is an add-in for Microsoft® Access® that adds smooth gradient colors to your command buttons and allows for button color changes on mouse over and when buttons are clicked. You can create buttons similar to those used in Office/Outlook 2007 by default, or you can specify your own custom button colors. Add a nice cosmetic touch to your application and impress your boss, or your clients with this colorful and professional looking enhancement.
When invoked from the Add-In menu, the Button Painter setup procedure updates your application forms by adding special controls and event procedures. Your standard, bland Access command buttons will then come to life with color gradients that blend in with the Windows color scheme. You'll be able to easily add and remove these effects without affecting the function of your application.
The demo above includes an example of an order entry application that has a Microsoft® Outlook® 2007 look and feel.
Supports the 2007 Office system.
See a screenshot.
Download
Download bp.zip - trial version for Access 97, 2000, 2002/XP, 2003, and 2007 (2283kb)


v1.8 - Supports the 2007 Office system.
Instructions
Double-click on the downloaded zip file to open it, then double-click on the setup.exe file inside and follow the instructions on the screen to install this application on your computer.
See the included readme.txt file or help file for further instructions on application usage.



Technical Support
For Button Painter technical support, please see the Button Painter FAQ page, or send an e-mail message to: info@peterssoftware.com



Price
Button Painter Pricing
Button Painter for Access 97, 2000, 2002/XP, 2003, and 2007

Click to Order

In-house License
Unlimited, Royalty-Free Distribution License w/Src
Upgrade from In-house to Unlimited License

Licensing Information

A license covers the use of Button Painter with any number of applications that you develop for distribution within your own company.

With the unlimited, royalty-free distribution license, you may incorporate the Button Painter database objects into any number of applications that you develop for distribution inside or outside of your company.

Prices are subject to change without notice.




News
4/24/07 - Version 1.8 supports the 2007 Office system.
1/21/06 - Version 1.7 includes a bug fix related to inserting code into control event procedures that already have code.
9/17/04 - Version 1.6 includes bug fixes and easier installation.
7/13/03 - Version 1.5 includes performance improvements, cosmetic enhancements and some bug fixes.
7/7/03 - Version 1.3 supports enabled/disabled button property setting.