CenterIt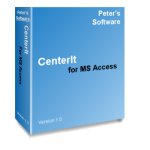 CenterIt is a module for Microsoft® Access® that allows developers to center controls on an Access form. Using one line of code a developer can instantly balance the layout of controls on a maximized form at any end-user computer screen resolution. With CenterIt, controls aren't bunched up in the upper left-hand corner of the screen at higher resolutions, or wide screen computers as is normally the case with maximized forms. Instead controls appear at the center of the screen for a more professional look and feel.
With CenterIt you can:
Center controls on Access forms
Automatically adjust your forms for widescreen computers, or any screen resolution
Center controls a bit higher on the screen for a (possibly) more esthetically pleasing effect
Maximize and center in one function call with no flickering
Give your application a more professional look and feel
CenterIt consists entirely of VBA code so it is easy to distribute with your Access application.
Supports Access 2007.
Also included as a feature in ShrinkerStretcher v11!.
See a screenshot.



Download
Download ci.zip - trial version for Access 2007, 2003, 2002, 2000 and 97 (1,732kb).


v1.0 - This version is entirely new



Instructions
Double-click on the downloaded zip file to open it, then double-click on the .exe file inside and follow the instructions on the screen to install this application on your computer.
See the included readme.txt file or help file for further instructions on application usage.



Technical Support
For CenterIt technical support, please see the CenterIt FAQ page, or send an e-mail message to: info@peterssoftware.com



Price
CenterIt Pricing
CenterIt for Access 2007, 2003, 2002, 2000 and 97

Click to Order

1-5 Licenses
6-20 Licenses
21-100 Licenses
Unlimited, Royalty-Free Distribution License w/Src
Upgrade from 1-5 Licenses to Unlimited, Royalty-Free Distribution License w/Src

Licensing Information

CenterIt is licensed on a per-installation basis. Each installation of CenterIt or an application that uses CenterIt requires a license. Please see the license.txt file that comes with the trial and registered versions for more information.

Prices are subject to change without notice.




for Access 2007, 2003, 2002, 2000 and 97
Other Products from Peter's Software