Halp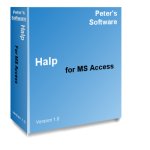 Halp is an integrated help authoring and display tool for Microsoft Access applications. It consists of a set of Access objects that a developer can add into an application to provide both context sensitive help topic authoring (via Ctrl-F1) and help topic display (via tooltips, or F1). Help content is stored in Access tables, and displayed as pop-up tooltips, or on the Halp help form which is a standard Access form. With Halp you don't need an external program to create or display context sensitive help content, it's all done from within your Access application.
Supports Access 2013!
With Halp you can:
Save time and money by using a simple and effective help system to reduce user technical support calls and increase application usability
Enter help content for the active control by pressing Ctrl-F1
Enter help content for a control, a form, or for your application
Enter help content at runtime
Enter rich-text help content (Access 2007 and later)
Protect help content with a password
Allow power users to enter help content
Save help content along with your applicaiton front-end
Display help content either as a tooltip, or on a familiar looking help form by pressing F1
Halp consists entirely of Access objects and VBA code so it is easy to distribute with your Access application.
Supports Access 2000, 2002, 2003, 2007, 2010, and 2013
See a screenshot.



Download
Download hlp.zip - demo version for Access 2013, 2010, 2007, 2003, 2002, and 2000 (3,573kb).


v1.0 - 10/13/2013 - Demo for Access 2013 64-bit included in download.

v1.0 - This version is new.


Instructions
Double-click on the downloaded zip file to open it, then double-click on the .exe file inside and follow the instructions on the screen to install this application on your computer.
See the included readme.txt file or help file for further instructions on application usage.



Technical Support
For Halp technical support, please see the Halp FAQ page, or send an e-mail message to: info@peterssoftware.com



Price
Halp Pricing
Halp for Microsoft Access

Click to Order

1-5 Licenses
6-20 Licenses
21-100 Licenses
Unlimited, Royalty-Free Distribution License w/Src
Upgrade from 1-5 licenses to Unlimited, Royalty-Free Distribution License w/Src

Licensing Information

Halp is licensed on a per-installation basis. Each installation of Halp or an application that uses Halp requires a license. Please see the license.txt file that comes with the demo and registered versions for more information.

Prices are subject to change without notice.




Access 2013, 2010, 2007, 2003, 2002 and 2000
Other Products from Peter's Software
News
10/13/13 - Access 2013 64-bit demo included in demo download.
9/4/13 - See the latest Halp press release.
8/15/13 - Version 1.0 released.