Moe (Mouse Over Effects)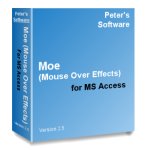 Moe (Mouse Over Effects) is an add-in for Microsoft® Access® that enhances your forms with intuitive rollover-type effects that react to the presence of the mouse cursor. Add a nice cosmetic touch to your application with highlighted rectangles that appear around text boxes and buttons, checkboxes that jump to life, and more, all in response to user mouse movements.
When invoked from the Add-In menu, the Moe (Mouse Over Effects) setup procedure actually UPDATES* your application forms with a rectangle control (for control highlighting purposes), and with MouseOver event procedures for each control and form section. The process takes just a few seconds to complete, so you'll be impressing your clients and coworkers in no time at all.
See a screenshot.
* Because Moe updates your forms, it is highly recommended that you make a backup of your database prior to using Moe.



Download
Download Moe.zip (774kb) - for Access 97, 2000, 2002, and 2003



Instructions
Double-click on the downloaded zip file to open it, then double-click on the setup.exe file inside and follow the instructions on the screen to install this application on your computer.
See the included readme.txt file or help file for further instructions on application usage.



Technical Support
For Moe technical support, please see the Moe FAQ page, or send an e-mail message to: info@peterssoftware.com



Price
Moe Pricing
Moe for Access 97, 2000, and 2002/XP

Click to Order

Single Application License
Unlimited, Royalty-Free Distribution License w/Src
Upgrade from Single to Unlimited License

Licensing Information

Moe is licensed on a per-application basis. If you incorporate Moe into an application you develop for distribution outside of your company, an unlimited license is required.

Prices are subject to change without notice.