VelociForm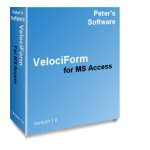 VelociForm is an add/change/delete/search form for Microsoft® Access® that can display data from any table, query or SQL statement at runtime. With VelociForm, a beginning Access user can easily display data on a professional-looking form. An experienced developer can include VelociForm in his/her project to greatly reduce development time when dealing with forms for miscellaneous tables, and greatly reduce the number of forms in his/her database.
Now supports Access 2013 32 and 64-bit!
With VelociForm you can:
Save time and money by automatically generating usable forms based on table/query definitions
Quickly provide great looking forms to your end users
Forget about sizing and arranging controls on your form - VelociForm does it automatically for you
See your table or query changes reflected instantly on VelociForm
Have a consistent design for your add/change/delete/search forms for miscellaneous tables
Save time designing miscellaneous forms so you can spend time on more productive tasks
VelociForm consists entirely of Access objects and VBA code so it is easy to distribute with your Access application.
Supports Access versions 2000 through 2013 64-bit.
See a screenshot.

See screenshots of VelociForm-generated forms here, here and here.



Download
Download vf.zip - trial version for Access 2010, 2007, 2003, 2002, and 2000 (2,379kb).


v1.1 - 10/13/2013 - Access 2013 64-bit demo included in trial version download.

v1.1 - Access 2010 32 and 64-bit support, bug fixes.

v1.0 - This version is entirely new



Instructions
Double-click on the downloaded zip file to open it, then double-click on the .exe file inside and follow the instructions on the screen to install this application on your computer.
See the included readme.txt file or help file for further instructions on application usage.



Technical Support
For VelociForm technical support, please see the VelociForm FAQ page, or send an e-mail message to: info@peterssoftware.com



Price
VelociForm Pricing
VelociForm for Microsoft Access

Click to Order

1-5 Licenses
6-20 Licenses
21-100 Licenses
Unlimited, Royalty-Free Distribution License w/Src
Upgrade from 1-5 Licenses to Unlimited, Royalty-Free Distribution License w/Src

Licensing Information

VelociForm is licensed on a per-installation basis. Each installation of VelociForm or an application that uses VelociForm requires a license. Please see the license.txt file that comes with the trial and registered versions for more information.

Prices are subject to change without notice.




Access 2013, 2010, 2007, 2003, 2002 and 2000
Other Products from Peter's Software